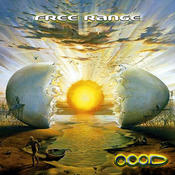 Free Range(organic)
by OOOD

Itís a little-known Ė and, letís be honest, largely insignificant Ė fact that without OOOD, there would be no psyreviews. Their Kundalini is THE track that kept me interested in this music, after having my curiosity piqued by those very same year-dot tracks that everyone credits.
Free Range has been a long time coming, and it bloody well sounds like it too. The production hugs you, lifts you up from the conventional psytrance bottom-heavy spectrum and to have this level of musical variety on one piece of plastic is almost enough to reaffirm your faith in music.
The title track kicks off funky and drops into 4-4 in one of the best set-starters ever devised; after which, Smoke A Lot flitters from glistening dub to floaty doof with a sublime elegance. The Humming is evil and hefty up to a dreamy breakdown, after which itís evil and hefty again, and Solar Sway takes things into a sort of netherworld-y, morning-trance-cum-oldskool that isnít exactly arresting, but is jolly nice all the same.
Oh My (Good Golly Me) is one of their best efforts here. Itís brave, itís bold, and itís beautiful. The vox distorts and warps perfectly, the techno-pounding rig botherage is in full effect, and subtle changes make it feel like a real journey, in the manner of Prometheusí better work.
Marijuajuana has a few too many samples, but its combination of shitkicking disco and dreamhouse pads make it a winner. Rock My Soul again suffers from over-samplage, which could almost be forgiven were the tune itself not quite so wandering and noodly (or should that be nOOODly). Sorry, crap joke Ė but then thatís what you come to psyreviews for, isnít it?
Blue Seal is a cracker. Taking ages to start, it holds the attention perfectly with intricate hooks, suggested melodies, an array of frequencies Ė in short, everything this kind of music should have.
It all comes together in the wonderful, warming Eye Of The Beholder; utterly wonderful, fluid, epic, dreamtime stuffÖ the kind of which I never thought Iíd here. Free Range is a decent album, with plenty of variation and with the inclusion of whatís known in the trade as ďshort talky bitsĒ (think Three Feet High And Rising), itís a winning package for home listening.
Musically, it may lack a certain thunking presence Ė as in, it doesnít sound like normal fullon Ėand as such DJís might find they donít give it quite so much of an airing. But the bottom line for the rest of us is that this is a mature, confident, loveable, lasting album thatís executed with flair, grace, professionalism, and a little sprinkle of magic from another dimension. Probably.e