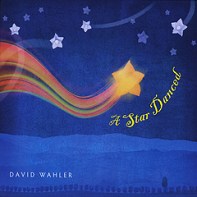 A Star Danced
by David Wahler
A Star Danced is the exciting follow-up to David Wahler's award-winning 2009 debut, Antiquus. Wahler was recently named "Best New Artist" in Zone Music Reporter's annual awards, and his new release firmly establishes him in the forefront of the new age, ambient, and contemporary instrumental genres. A variety of moods and emotions are expressed in the thirteen instrumental tracks which Wahler performed on keyboards (sampled instruments just keep getting better. I was sure the horn on tracks 1 and 13 was "real"!); the only other musician is guitarist Brent Gunter, who appears on track 3.
Where Antiquus was inspired by ancient myths and oracles, A Star Danced goes inward to reflect on the personal experiences of the composer. Graceful, dreamy, and beautifully recorded, the music is very personal yet easily accessible through common life experience and the universal language of music.
A Star Danced begins and ends with "Quest," a musical tale that starts with the ethereal sounds of a dream. A short time later, much of the lead is played on horn (flugelhorn or trumpet), which gives the piece a colorful, cinematic sound. The tone of the piece suggests that the quest is ongoing, without a distinct conclusion in sight, but that the journey itself is the most important part of a quest. The title track is much more ethereal and ambient, creating a vision of dark deep space, slow movement, and twinkling stars - a massage for the mind. I love "The Seeds of Time," which features Brent Gunter on guitar. Ambient sounds, haunting flute, and gentle voices provide an atmospheric backdrop for the beautiful guitar work. "Come Gentle Night" is an invocation to dream in blissful tranquility. I have a strong feeling that Debussy would be very pleased with Wahler's electronic arrangement of his "Reverie." The spirit of the original piece is very much intact, updated with contemporary instrumentation and sensibility. "Sigh Away Sunday" is pure rapture set to music, putting the weekday cares and worries a million miles away. "Vespera" is my favorite track, reminding me of George Skaroulis at his evocative best. Magic and mystery blended with a touch of melancholy create a mood of passion and deep longing. Wow! "Missing You" was composed and performed for Wahler's father's funeral - a beautiful tribute that overflows with tenderness and love. I also really like "A Rose Distilled," an ambient piece with guitar, flute, harp, oboe and chimes that floats on a cloud of soothing sound. This is another fantastic album from David Wahler!
It looks like we're in the midst of another awesome year for new music, and A Star Danced is likely to be near the top of the pile of great albums! It is available from www.davidwahler.com, Amazon, CD Baby, and iTunes. Very highly recommended!
Reviewed by Kathy Parson's Mainly Piano website reprinted with permission on Ambient Visions