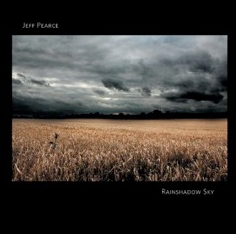 Rainshadow Sky
by Jeff Pearce

Visit Jeff Pearce's
Bandcamp website

or on Facebook
"Rainshadow Sky", released in 2008, is 10th solo album of highly treasured ambient guitarist, based in West Point, Indiana, Jeff Pearce. Keeping on the path taken on his previous "Lingering Light" album, Jeff, who is known for his unique approach to the guitar, explores with his filigree playing Chapman Stick highly evocative, intimate and serene realms. A highly relaxed sonic experience is guaranteed!
"Rainshadow Sky" consists of 12 rather shorter tracks clocking between 2 and 5 minutes, which were live recorded at house concerts in late 2007 and first half of 2008. Compositions are ranging in mood, from more joyful and euphoric pieces like "Rainshadow Sky", "Ashes Of Grace" or the most lively piece "Deluge" through emotionally driven like "Sorrow In Spring", "A Secret To Hide", "Autumn Clouds" and "Night Path" to gorgeously dreamy and serene arrangements like "And We Prayed For Rain", "The Last Warm Day In October", "Through Tears" and "Hope's Last Whisper". Among the highlights on this album is certainly also deeper droning "Harvest Storms" that recalls the darker drifting atmospheric era of Jeff's career. Yes, I must say the overall quality of each track is top notch, you won't hear on this album any fillers, so it's very difficult to point another standout pieces. But most likely I would go for the opening title track "Rainshadow Sky" that immediately sets the magically beautiful and intimate atmosphere with delicately balanced melody, melancholy and mystery. Highly expressive "A Secret To Hide", fragile "Night Path" and melodious "Deluge" get my votes too.
Extra points are awarded also for astonishing looking front cover image (art by Sandra Dittfeld). If you like highly relaxing ambient tunes performed by a truly gifted and inventive musician, "Rainshadow Sky" is highly recommended choice! And don't miss Jeff's (and his wife Anastasia's) newest activity, a project entitled "Provision Series", in which from July 2011 to July 2012 Jeff will release every month one mp3 single with donations to monthly chosen charity and local homeless shelter and food bank. Show your respect to this great musician and person!
Reviewed by Richard Gürtler (July 23, 2011, Bratislava, Slovakia)