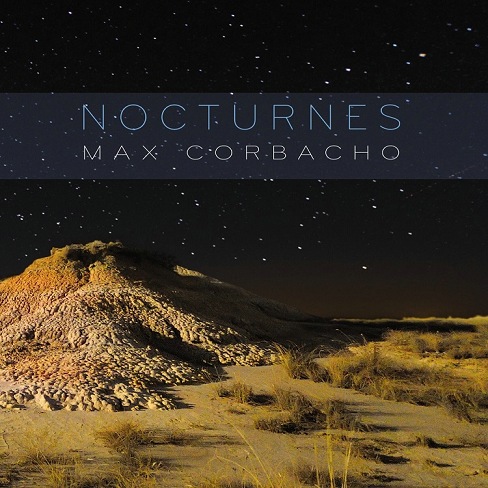 Nocturnes
by Max Corbacho

Visit Max Corbacho's
Bandcamp website

or on Facebook
If I recall correctly, the title "Nocturnes" has been resonating in the connection with Max Corbacho for few years already. For the first time announced by Hypnos, roughly about 3 years ago, unfortunately it was in the period of time when Mike and Lena were slowly evanescing from their publishing activities (yet Hypnos is still alive as a mail-order and forum). Secondly, I have encountered "Nocturnes" back in the summer of 2016, when hanging in Max Corbacho's studio in Barbera del Valles, near Barcelona. Lots of great memories revive... along with fruitful discussions held with Max about the long-deserved release of this recording. And now finally the dreams came true, "Nocturnes" CD is here!!! Out on Max Corbacho's newly created label Silentsun since May 19th, 2017, the album comes in a catchy matte 4-panel digipak graced by immersing nocturnal photographs taken by the artist himself in Aragon, a northeastern region of Spain, these photography sessions also remain as the biggest inspiration for "Nocturnes". Additional credits are given to visual master Michael Rodriguez Pletz, who has already collaborated with Max Corbacho on "Splendid Labyrinths" and "Future Terrain" artworks. The mastering credit goes to Ian Hawgood, his name can be found also on "Future Terrain".
The journey is ignited with quietly expanding "Dark Sky Opening", a title precisely reflecting its name as well as awe-inspiring immenseness of arid landscapes of Aragon. Max Corbacho's multidimensional expansive gracefulness sweeps across effortlessly like refreshing nightly breeze. Inconspicuous climaxes with ear-tickling glimpses persistently percolate throughout the grandiosely panoramic magnitudes, known as a purely quintessential sonic insignias of this Spanish Maestro. Yeah, this nearly 53 minutes long epic composition proficiently displays the soundcarving magic of Max Corbacho, where phenomenally engrossing spatial vastness is meticulously reinforced by infinitely billowing and warmly tenebrous meridians. Max gives the max again, these utterly powerful quietudes will always be my sonic medicine!!! A jewel like "Nocturnes" was worth the long wait!!! The next piece, "Stellar Time", reaching almost 12-minute mark, straightly dives into gargantuan depths, where celestially infused drones exquisitely amalgamate with magmatic humming monoliths, titillating dissonant perplexes and balmily nuanced undercurrents. A truly mind-blowing odyssey transporting the listener into jaw-droppingly unfathomable nothingness, where monstrous serenity with disastrous reverberations are tenaciously engulfing. This track undoubtedly showcases Max Corbacho at the very top of his most intense abysscaping!!! So it's quite obvious "Ghost Of The Moon" clandestinely enters this scenario and glides on the wings of diminuendoing thickness, with less density, yet more resonating sharpness with oscillating vertexes, bridged with hidden, but glimmeringly emerging yearning sceneries, before surreptitiously transmuting into tranquilly vanishing horizons.
74-minute "Nocturnes" album again reinstalls Max Corbacho to the foreground of atmospheric soundscaping, his signature sonic meditations belong to the most colossally expansive and breathtakingly immersing listening experiences. This Spaniard is a stalwart soundforger par excellence, certainly don't miss his stellar discography filled with many other gems like "The Ocean Inside", "Ars Lucis", "The Talisman", "Splendid Labyrinths", "Nocturnal Emanations"... The flame is still burning brightly and as far I know, few more chapters of "Nocturnes" are in the stove, so stay tuned for more!!! Bravo, Max!!!
Reviewed by Richard Gürtler (August 3, 2017, Bratislava, Slovakia)