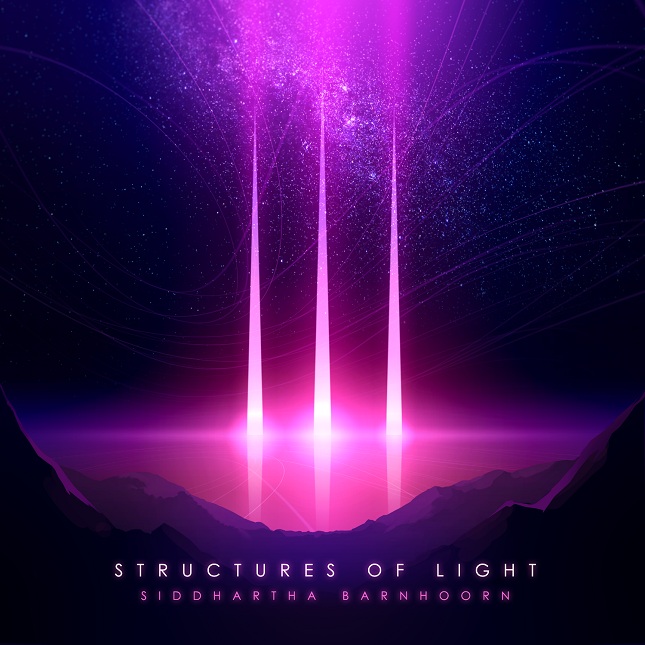 Structure of Light
by Siddhartha Barnhoorn

Visit Siddhartha Barnhoorn's website

or on Facebook
Siddhartha Barnhoorn is a brand new name on the map of ambient drifters, however, this Dutch composer is a very experienced sound designer, who has worked since 2004 extensively on the musical scores (over 70!) for films, documentaries, games, commercials... "Structures Of Light" is his second ambient album, but first one self-released on a physical format. He debuted with "Pillars Of Light" back in 2011. Its follow-up is out since the end of May 2017 in a really attractive 4-panel digipak featuring stunning visuals by acclaimed digital painter Gary Tonge, who has contributed his art also to "Pillars Of Light". The album was released in a limited edition of 80 copies. To complete the credits list, the mastering was done by Aaron Marshall, another ambient musician and composer for film and media.
"Streams From Stillness", with running time 4 and a half minutes the shortest one on "Structures Of Light", straightly unfolds with free floating expansive washes navigating the listener towards tranquilly immense solitudes, where colossal drifts serenely commingle with nuancing dramatic horizons. A very strong introduction of Siddhartha Barnhoorn's soundscaping, well-done! Much longer "Place Of Now", clocking to 12:30 mark, quietly shifts into more monumental drone zones, continuously rising and ebbing through breathtakingly graceful panoptic sceneries. Cinematic elegance at its most splendorous! 8-plus minutes long title composition "Structures Of Light" bridges titillating glimpses of sudden invasive meridians with soothingly meandering and evanecescing voluminous panoramic quietudes, while inconspicuously permeated by ephemeral silent vistas. "Slowly Becoming" reveals with expressively flavored staggering cascades reinforced by high-pitched vertexes with few gossamer subterranean traceries thrown in. Then clandestinely metamorphosing into rather monochromatic, spaciously sweeping and intensely engrossing drone sheets, yet continuously percolated by occasional translucent flickers. "Inner Being" has most likely the most vintage-driven sound, while again melting warmly evocative atmospheric grace with ear-tickling ringing signals. The closing 21 and a half minutes long epic "Sanctuary" dives right away into thrillingly magnificent sonic realms, exquisitely amalgamating utterly grandiose magmatic stratums, unfathomably enigmatic and tenaciously tight, with diminuendoing humming subtleties, while ambiguous click-clacks with auxiliary glimmering sequences surreptitiously pervade across stunningly monolithic walls. Additional intriguingly dissonant fragments join this profoundly enveloping scenario as well. Gliding through awe-inspiring elevations, where infinitely magnifying layers collide with engulfing ambrosial decrescendos. A pure aural bliss is fully revealed, a grand finale indeed! Bravo, Sid, this certainly must be your magnum opus and an all-inclusive path to be taken and blossomed in the future!
With nearly 61 minutes long "Structures Of Light" Siddhartha Barnhoorn introduces his soundsculpting potential on the drifting side of immersing ambient canvas. Although described as a "newcomer", this Dutchman has masterfully utilized all his undisputable skills in carving powerful scores. Once again, kudos to you, Sid, and keep on creating your own atmospheric insignias! Yes, new tracks are in the works at the Timecave, some of them even featuring ethereal voice magic of kindred soul Lara Ausensi (btw, they sound really impressive!), so definitely don't go away and give a listen to "Structures Of Light" (and also to digital download of "Pillars of Light")! Siddhartha Barnhoorn definitely deserves his spot on the ambient scene as he is ready to chase allied drifters par excellence!
Reviewed by Richard Gürtler (Jul 30, 2017, Bratislava, Slovakia)