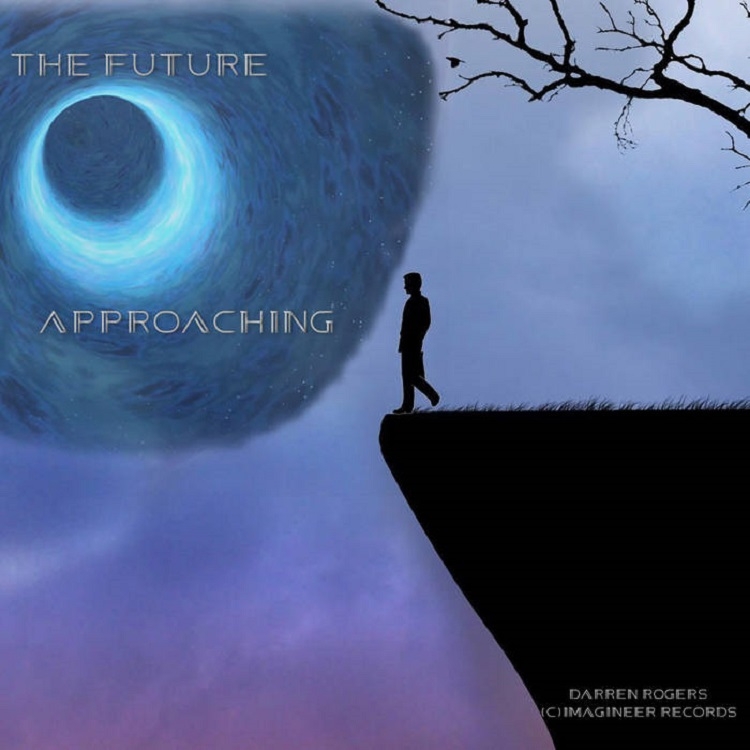 The Future Approaching
by Darren Rogers

Visit Darren Rogers
Bandcamp website

or on Facebook
I have reviewed Darren Rogers' previous full length album "Interstellar Love" about one year ago, this album was released during March 2016. In the meantime Darren Rogers has released few single tracks and one EP through his Bandcamp site, including "The Journey" composition dedicated to his good friend and fellow soundscaper, the late Jeff Kowal. "The Future Approaching" is the newest album by Darren Rogers and it's out since the end of April 2017 through his own Imagineer Records. The physical pro CDr edition is available via Kunaki and it comes in a standard jewel case with 2-panel front cover image.
18-minute "In Memory Echoes" triggers the journey with mixture of subterranean-infused tapestries and eerily surrounding remote rumbles, while sinuously undulating drone rides atop. Additional subtly dissonant sheets join the foreground as well and paint twisted hallucinogenic images. Then lighter celestial drifts clandestinely permeate across and steal the leading path, before slowly metamorphosing into weirdly perplexing hypogeal domains. Afterward serenely gliding calmness emerges like a chameleon and floats toward the conclusion through warmly evocative cinematic landscapes. Deep drone hums announce "Across Time", which clocks to 16 minutes, and swiftly carry the listener into unfathomable depths, although juxtaposed with slightly balmier introspections and ethereal choir-like vistas. However, the scenario is safely driven by thrillingly helixing transcendental meridians reinforced by unforeseen magnifying vertexes. More quieter intergalactic realms are explored throughout the last quarter. Bravo, Darren, this one rules with its immersing tenaciousness!!! The next piece, "Winds Of Change", follows the path and reveals with solitary blows, while enigmatic undercurrents slowly percolate along with tenebrously evocative cascades. Coalescing persistently mind-bending reverberations with poignantly panoramic reminiscences and moving from ambiguous traces through scenic landscapes and gracefully immense spatial zones to capriciously ear-tickling cybernetic surges. An intriguingly engulfing sonic elixir! 8-plus minutes long closing title track "The Future Approaching" glides effortlessly through immense spacefields, when carefully bridging panoptically sweeping ethereal majesty with glimpsing titillating fragments and captivatingly embracing, rather new age-charged longing exhilaration.
"The Future Approaching" is a very solid driftscaping deep space installment by Darren Rogers, who masterfully commingles on this 56 and a half minutes long journey magnificently engrossing nebulousness with soothingly relieving heavenly quietudes. Good job, Darren, and keep on voyaging!!! And about 10 days ago a new track "Inner Tranquility" has been published on Darren Rogers' Bandcamp site as a free download, so don't hesitate to explore this soundforger from Texas.
Reviewed by Richard Gürtler (August 3, 2017, Bratislava, Slovakia)