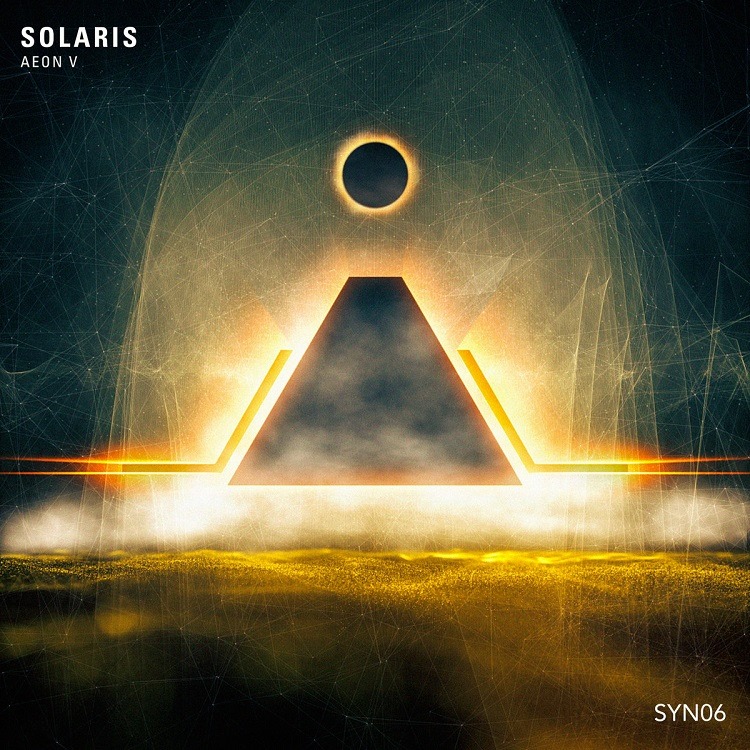 Aeon V
by Solaris
Highly sympathetic Californian label Synphaera Records, run by Chris Bryant and Don Tyler, quickly became an important voice on the map of ambient and electronic related genres with several top-notch sonic and visual gems resonating since 2015. Solaris "Aeon V" CDr, packaged in a 4-panel digipak and released in a limited edition of 150 copies during March 2017, is no exception. The project features Serbian soundsculptor Strahinja Maletic, one half of Fourth Dimension, and above mentioned Don Tyler, who is together with Chris Bryant the force behind Ascendant project. Sten Backman of Great Big Container gets credit for transporting cover image while Don Tyler is responsible for the mastering wizardry at his IO Mastering Studio.
Gossamery tinkles announce 7-plus minutes long "Ritual" and shift it into contemplatively embracing sceneries, where mesmerizingly invading monochromatic drones amalgamate with balmily organic serenities and quietly paced traceries. A very strong introduction of Solaris' soundworlds!!! Nearly 6-minute "Levitation" unfolds suitably to its title, but soon it metamorphoses into intangibly sequenced terrains, pervaded by enchanting cinematic glimpses. "Inward" masterfully bridges gracefully sinuous vistas with illuminating traces. "Waiting" maintains its evocative scenario, yet again juxtaposed by anodynely marching patterns. "Roundabout", at 5 minutes the shortest piece on the album, glides towards intensely engulfing horizons, exquisitely nuanced and meticulously permeated by intriguingly nebulous solitudes. Pure aural elixir!!! Shimmering introspections with mysteriously flatlined meridians riding atop and persistently glittering scenic motifs carve truly magnificent imageries, "Intrinsic" is obviously another exceptional composition, bravo Strahinja & Don!!! "Circular" arises from heavenly stratums, but fragilely translucent cyber-tech sparkles quickly steal the forefront. "Dominant" drifts into ambiguously immense zones, where grandiosely towering vertexes masterfully commingle with remotely obscure claps. "Reception", the longest track clocking over 8-minute mark, precisely merges glancing, yet awe-inspiring mesas with hypnotically perpetual and animately magnified sequences and flickering biotic embellishments. The closing "Contemplation" enters halcyon panoramas, where enveloping heavenly magnitudes counterpoint with spellbindingly trembling tapestries. Sergey Severin is credited on the end for his "Transmission from the future" epilogue. As much enveloping as piquant, a genuinely rewarding conclusion!!!
68 minutes long "Aeon V", inspired by Andrei Tarkovsky's adaptation of the novel Solaris by Stanislaw Lem, is a true masterwork and undoubtedly one of my fave Synphaera releases!!! On this timeless journey, Strahinja Maletic and Don Tyler triumphantly reveal their creative talents. High five for both of you guys, you can be really proud of this strikingly immersing and intricately sculpted debut!!! In the meantime another album by Solaris was released, "Chimera" is out on Synphaera's dark cinematic sub-label Exosphere since October 2018. It's a pity this recording is not available on a physical format, nuts like me certainly would love it on a CD/CDr...
Reviewed by Richard Gürtler (Aug 07, 2019, Bratislava, Slovakia)