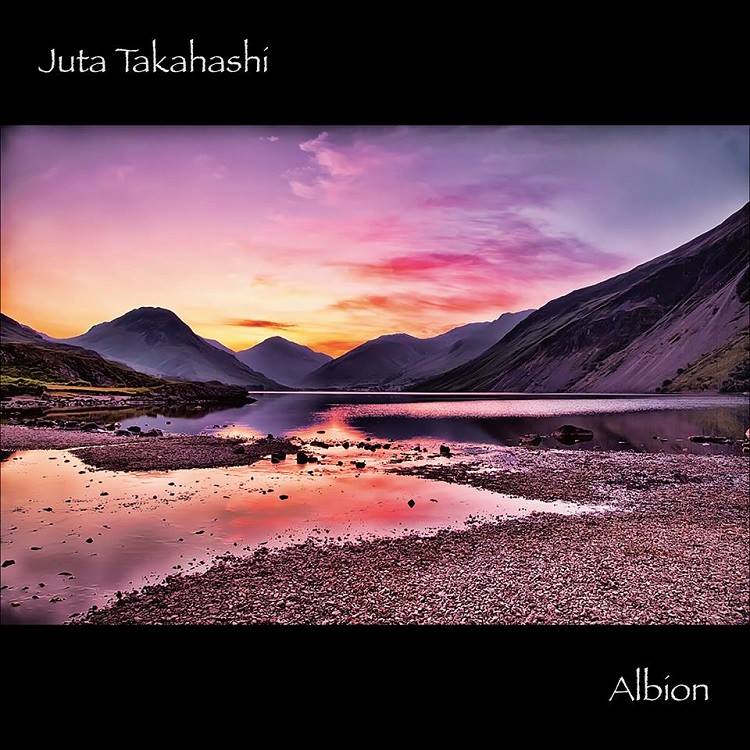 Albion
by Juta Takahashi

Visit Juta Takahashi's
website

or on Facebook
Japanese drone ambient Maestro Jutaro "Juta" Takahashi was quite silent since his last album "Transcendence" released back in September 2013. If I am right, in the meantime he has only re-issued his older album "The Door Into Winter" in March 2015 on a glass mastered format (original CDr edition was released in 2007). Now he makes big return with a brand new studio work published at the end of April 2017 on his own Lunisolar Records. The album was recorded from December 2016 to February 2017. As usual for all releases of Juta Takahashi, the CD comes in a standard jewel case with a transparent tray featuring some stunning visuals provided by artists mostly based at DeviantArt community. "Albion", dedicated to the majestic landscapes of the Great Britain, is no exception as it is graced by immersing "Serenity" crepuscular splendor captured by Simon Evans, an amateur photographer from New Zealand, now based in the UK.
Nearly 14-minute long opening piece "Silver Waves" straightly sets gracefully meandering dronescaping images carved by Juta Takahashi's masterful utilizing of his analog synths. Waving introspective layers are persistently permeated by climaxing high-pitched vistas, which already belong to distinguishable earmarks by this respected Japanese ambient drifter. If I remember well, I am strongly fascinated by these engrossing dissonant curtains since "Angel" track from the same titled CD album released five years ago. Indeed a very strong opening! "Frozen Day", only slightly shorter that its predecessor, delves deeply into stunningly foggy monochromatic sceneries, exquisitely reinforced by titillating piano glimpses. It's amazing how the frosted drone desolations with auxiliary perplexing spirals are softened by warmly embracing piano reflections. What a masterpiece, bravo, Juta!!! "Shining Valley", clocking to 15 minutes, quickly returns into euphoniously expansive panoramas, precisely amalgamating gliding flatlined sheets with ear-tickling cascading and soaring evocative meridians. Utterly magnificent soundscape authentically mirrored by its title! The next piece "Maeve" immediately transports the listener into the gorgeously tranquil garden of blossoming heartwarming piano motifs meticulously coalesced with harmoniously quiescent and sweepingly yearning horizons. As described by the author, this is waltz for Maeve, a composition dedicated to Lee Anth#ambiony Norris' beautiful daughter. A truly moving, emotionally profound, almost tearful piece of music! The closing track "Summits", with 16 and a half minutes the longest one on "Albion", floats with all its imposing grace and panoptic serenity, where spaciously contemplative drones perpetually commingle with gossamery delicate traceries, nuanced cinematic quietudes and benignly disruptive streams. Another sonic ambrosia!
Although Juta Takahashi has taken longer hiatus before releasing 73-minute "Albion" as his 11th album, a splendidly accomplished recording like this is always worth the wait! Without question, because "Albion" certainly rates as one of his magnum opuses, once again, bravo, Juta!!! And last but not least, Juta Takahashi's three CDr albums released during 2007-2008, "Across The Flow", "Remembrance" and "Moonlit Flowers" still remain unreleased as a glass mastered CDs, so I really hope he will take this into consideration, because his entire discography deserves to be completed, remastered and reissued on a CD format. Dive deeply into an awe-inspiring aural oasis of Juta Takahashi, intensely rewarding listening experience constantly awaits!
Reviewed by Richard Gürtler (August 21, 2017, Bratislava, Slovakia)