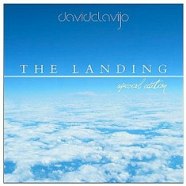 The Landing
(Special Edition)
by David Clavijo

The Landing - Special Edition is an expanded version of David Clavijo's exciting 2009 debut EP, The Landing. For this Special Edition, Spain's Clavijo has added four new tracks that broaden and enhance the world music experience that began with the earlier recording. A fascinating combination of new age, chill, and world ethnic styles, Clavijo takes us on a vibrant, rhythmic musical journey that begins on the moon and travels to Africa, India, the Middle East, and back with ten lush electronic instrumental tracks. It's not easy to create music that is both relaxing and energizing, but Clavijo succeeds well in both areas - often at the same time! If you enjoyed the EP, you will absolutely love the Special Edition!

The album begins with "Dancing on the Moon," a sensual and mysterious piece that pulls you in as it spins its magic. A strong rhythm, strings, wordless vocals, keyboards, and atmospheric sounds create a mood that is warm and inviting. This piece segues into "Distant Love," which reminds me a little of Fiona Joy Hawkins' chill music, which I love. A sultry female voice enters from time to time saying, "I'll give you pleasure." Upbeat, sexy and fun! "Es Vedra" begins with the sound of the ocean and gives way to a big cinematic sweep that feels tropical and lazy. Guitars, keyboards, voices, and a pulsating beat make this piece an ode to joy as well as a tribute to a legendary rock island near Ibiza. "Las Dunas" is sultry and relaxed, moving leisurely and with grace. Silky vocals, shorebirds, and an infectious rhythm cast an irresistible spell. "Nowhere" is the most "new age" of the pieces. Piano, keyboards, guitar, and gentle percussion exude warm, melodic tones that soothe away any cares and woes. Nice! "Sailing In My Dreams" returns to a more dramatic mode that is dark and mysterious. "African Spirit" dances with delight to a bright, infectious rhythm and voices singing the happy melody. I love "East Winds" and its feeling of exotic mystery. Electric guitar and driving percussion send this piece soaring. "Uttara Kanda" takes us to India and reminds me a bit of some of Yanni's blending of cultures and musical eras. The danceable rhythms and joyful sounds uplift. "Promises" also hints of Yanni's influence, but Clavijo is definitely not imitating. Wordless vocals and a sensuous flow of strings, piano, and percussion make this a gorgeous and addicting close to a fantastic album.

David Clavijo is an exciting new artist to watch! The Landing (Special Edition) is available from www.davidclavijo.com, Amazon, CD Baby, and iTunes. Very highly recommended!
Reviewed by Kathy Parson's Mainly Piano website reprinted with permission on Ambient Visions