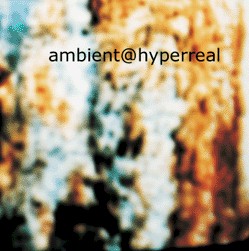 ambient01@hyperreal
by Various Artists
Ain't technology grand? That's what I always say when I hear music like this. This compilation comes from a group of electronic music makers who live all over the world, and are connected, most of the time, only by e-mail. They range from "published professionals" like Forrest Fang and independent label artists like Dark Duck's Stephen Philips to complete amateurs who have a lot of expensive sound equipment in a back room of their home. (This back room thing can also be true of the "professionals.")
There are two CD's in this album, which follows a fairly common pattern in 2-CD ambient sets: the first CD contains more rhythmic tracks, and the second contains the more drifting, beatless "pure ambient" tracks. I found both of them enjoyable listening; the rhythmic stuff on CD1 is best by day, the ambient on CD2 better by night. One of the standout tracks on CD1, for me, is the nine-minute excerpt from "Ambient Temple of Imagination's" rave performance, dated 1995, in San Francisco - it is a driving trance-rush segment with a railroad-like speed. Another pair of good ones in succession are track 3, "Avalon," by Belgian Tim Handels, and track 4, "Marisol (Warm Dub Mix)" by Southern California-based "Universal Selector." Both these tracks have the kind of sweet but ironic blend of nice chords and clubby techno sound that I associate with Britain's technomusic-entity "Global Communication." Another melodic, pretty piece is Ohio-based "Dub Jay's"
"Amber Translucence." In general the pieces on both discs of this album tend towards a rather "thin" sound, without too many stacked-up tracks or loud "walls of sound." CD 2 features a more "classic" style of ambient. Utah resident Kendall Jackman shows the influence of Mychael Danna in track 3, a "serious" synthesized string-orchestra piece called "Weightless." Some tracks are in the "dark ambient" vein, such as Canada's "dreamSTATE"'s "White Winter Moon" (track 4) or Australia's Sam Melbourne's guitar-spacey "Amongst Myselves." (track 2). Forrest Fang's entry, "Harmonia," (track 5) is a sparkling pentatonic "outtake" from his recent album GONGLAND. Dark Duck's Stephen Philips contributes a foggy, nocturnal vision under his "Deep Chill Network" imprint, track 9, "Alone." Other pieces on CD 2 tend towards the "drone" or "minimalist" style, mixed with electronic bleeps and recorded and looped "found sounds."
All the participants on this album identify themselves on the inner pages of the paper insert, including their e-mail addresses and Web sites, so that if you want to hear more from any one of these guys, you can contact him and then hope for the best. This kind of production is, I hope, just the beginning of a new way of both making and distributing music and other sound-productions, something which goes directly from individual to individuals without the often destructive pressure and interference of the commercial music market. This way even the most esoteric sounds can be shared and heard.