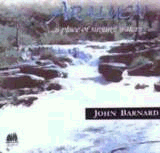 Araluen
by John Barnard
John Barnard is an Australian composer whose music has been used by British Airways to calm tired travelers on long-haul flights - to and from Australia, for instance. This album was commissioned by the airline for its "Well Being in the Air" program track. The airline had already been using Barnard's earlier companion album, Beyond the Clouds.
"Araluen" is a nature preserve in Australia, and throughout the album, you hear recorded sounds of birds, water, and creatures from the park. The music is slow, meditative, and simple. It uses synthesized "symphonic" instrumental tones, with the melody carried on a single-note piano or synthesizer line or quiet guitar. Most of the harmonies are straight "classical" forms with only a few diversions into jazz or "impressionistic" tonality, and its mood is always sweet. Listening to this, I was much reminded of the now-classic "environmental relaxation" albums in the "Golden Voyage" series by the late duo Robert Bearns and Ron Dexter. Barnard's music is also similar to that of Mike Rowland, whose "Fairy Ring" has become a New Age standard.
This soothing, restful collection definitely serves its purpose well. It is gentle and undemanding, and could easily waft a listener away from stress and into dreamland. This is not music for those who want to be challenged or excited or shaken; it is for those weary journeyers, whether by air or any other way, who simply want a few moments of peace.