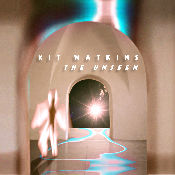 The Unseen
by Kit Watkins
This sparkling album by longtime ambient/jazz composer Kit Watkins is a summer vacation in a CD, filled with warmth and charm. Watkins plays a wide variety of instruments, acoustic, electronically synthesized, and everywhere in between, and gives us an equally wide variety of pieces in this album. Though it's dated 2000, this work is actually mostly from the mid-90s, with one earlier piece, "Kaleidoscope" from 1985.
For years Watkins has been spinning an urbane mix of jazz, ambient, and echoes of minimalist "classical" music. This set adds in elements from the "East," especially the pentatonic gamelan sound of Indonesia or the twirling harmonies of India and Arabia. There is no attempt to create an "authentic" sound – Watkins uses Asian music purely as inspiration for his own sonic creativity. Metallophones, gongs, synthesized tonal percussion, and bells add a tropical atmosphere. The earlier piece, "Kaleidoscope," is purely electronic, though its pentatonic synthetic xylophone sound fits in with the rest of the pieces on the album. It is eleven minutes of bouncy sequencer transformations.
There are many fine moments in The Unseen, for instance a somber and rather Roach-like passage of ambient drift at the end of track 3, "Logarhythm," and a pseudo-Miles Davis "trumpet" solo in "Veil of Cool," played by Watkins on an electronic sampling instrument which has more range than any trumpet. Other tracks, such as "Windchimes" (track 7) or "Evening Mothra" (track 9) are austere, gentle, and contemplative, leaving the hot rhythms behind in the virtual city for a sound which is as refreshing as a clear pool of shining water.