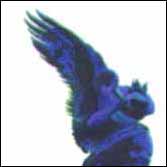 Cobalt 144
by Ashera (Anthony Asher Wright)
Ashera's Cobalt 144 will reward you as one of the most essential ambient recordings your collection will ever contain. Until word spreads it will also be the one obscure disc that your listening mates will be fawning over. It is pure joy to watch and listen as others discover the magic of Cobalt 144.
Ashera's members are Antonio Wright * instruments, Caroline Wilson * voice, and Aariana Korkosova * voice. Cobalt 144 is the second release, "Ambient Selections" being the first, from this amazing trio of musicians based in Sydney Australia.
Cascading, breathy voices, underpinned by mercuric synthesizer washes are highlighted with treated guitar work as "Cobalt Friends" unfolds with the distant perspective of the seductive call of mythological sirens caressing your ears. As one draws nearer, and drawn in you will be, the aptly named second track "Vertical Tunnels" changes the tonal palette ever so slightly, placing sonic boundaries upon the soundstage. Thus drawing the music closer around you, molding itself, through the perspective of swirling ethereal sirens voices tangible enough to touch as you feel yourself guided along the tunnel walls towards the waiting and mysterious unknown.
Liquid sounding keyboards float about as nature envelops your aural senses with visions of feline stealth and languid repose in the cathedral ceiling sound field of "The Cat". Wonderment abounds, under watchful eyes, as you gaze about, uncertain of what lies ahead, viewing what appears to be a jump point or portal staging area to the destinations that await you.
"Patio Wall" is the portal you seek. As a new denizen of Cobalt 144 you will marvel as the essence of life is beautifully woven during a visit to "River Farm". The paths that follow lead you to the principles of the land, revealed in the tracks "144", the Cobalt way of life, with deep earthly roots, "Temple Ritual" and the homage to the airwaves in "Ultima Thule". The remaining tracks are those that change and engage the listener's introspective thought process the most upon each successive listening session. More akin to favorite characters or scenes from an exquisitely rendered fantasy realm wherein the author deftly sculpts believable landscapes, dialogue exchange, and scenarios. One bathes in "Moonlight Tides", enters into discourse with "Lord Shield Pakal", gains insight while "Swimming Cobalt Waters" and finally is rewarded by dwelling "In Fifth Densities" at the works close.
Cobalt 144 is easily one of the best fantasy adventures of the year... and amazingly enough, not a page to turn or joystick to jostle to become immersed in and embraced by Ashera . Pure artistic entertainment, an audiophile treat for those systems capable of displaying air and nuance, and finally, an enthralling, to die for dream, for headphone worshippers. Cobalt 144 is highly recommended as an essential addition to every Ambient collection.
Reviewed by BEAR 08.19.01