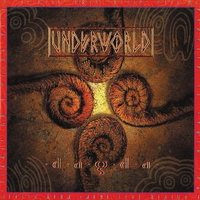 Underworld
by Dagda
Our Anglo-American pop culture these last decades has been flooded with Celtic material – Celtic design, costumes, mythology, adventure stories, paganism and magic, movies, dancing, weapons, poetry, pseudo-Celtic religion, and especially music. Ever since Ireland's Enya scored big hits, we've been saturated with Celtic music of every kind, from "authentic" Irish folk music and Scottish bagpipes, to Celtic rock. So it only follows logically that we would also get Celtic disco. And basically, that's what this album, Underworld, amounts to.
That's disco, as in swinging club-style rhythms, with a mechanical beat, and canned synthesizer harmonies, accompanied by sampled Celtic pipes and harps. Imagine ultra-hip fashion models parading in tartans and you've got the image. I suppose as club music, or backgrounds to advertising, this isn't bad, but once you try to get beyond the slick commerciality of this album, there isn't much there. There are a couple of "mood" tracks, such as track 5, "Dawn at Druid's Cove," and the longish track 6, "Lord of the Underworld," which in their rambling modal harmonies and driving rhythms resemble a very diluted form of Euro-synthesizer- rock.
But most of this album is what I would simply call pseudo- Celtic boilerplate, that is, generic "Celtic" sounds homogenized into cheerful, listenable but completely forgettable background music. Add to that a pretty package with unreadable type, with no contact information included, and you have something that slips away from you like an Irish mist at mid-morning.