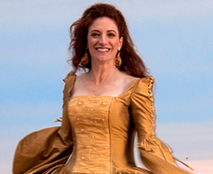 Robin Spielberg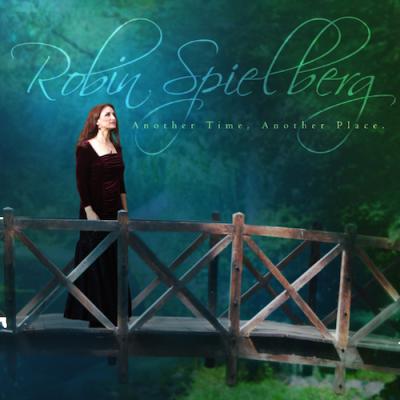 Another Time, Another Place
AV: Seven years is a long time since the release of your last all original piano work. Tell me about what you have been up to for the last seven years?

RS: I can't believe it has been seven years. I began working on an album of Americana music---music from the Civil War to the Gold Rush---back in 2009. I had thought that this would be a nice project to do after my solo piano release of "A New Kind of Love," and I expected it to be a short-term project. The songs on the project were not the kind of songs that I thought my regular audience would be interested in. The songs included "Bicycle Built for Two," Oh Susannah," "In the Good Old Summertime," etc. These are all songs that we all learn as kids and songs that seem to stay with us our entire lives. I was interested in creating arrangements of music that was steeped in American history and that people knew in their very core whether they were 9 or 99 years old. This project fascinated me, but it was only meant to be a year-long project. The response to the album was really incredible and unexpected and it led to a concert tour that just wouldn't quit. I put together a small ensemble (cello, piano, guitar, fiddle, percussion) and we toured the album all through the US. We even have concert dates set up through 2016! In the meantime, I continued working on a memoir I had started. That was published in late 2013 and I followed it up with an audiobook version that I narrated myself. All the while I have worked on new pieces for solo piano and have been raising a teenager who is very involved in her own music projects and ensembles. Life has been full for sure!

AV: While you were not working specifically on a new piano album over the last seven years was there still piano music percolating under the surface of all your other activities that you were involved with that would eventually its way onto Another Time, Another Place?
RS: That is true for me always. I tend to live with a composition a very long time before I commit to recording it. I like to give pieces a chance to "breathe" a bit and I enjoy finding nuances and moments. I like play with tailoring phrases and getting pieces "into my body" if you know what I mean. Not only does this make for a better composition, but then when I go to record a piece I only need to do one or two takes. The piece becomes a part of me and very known to me.

AV: Even though it sounds like you were quite busy over the last seven years did you miss not focusing on the solo piano work aspect of your career?
RS: I am always focused on the solo aspect of my career as that is my main love. In between the ensemble performances I had plenty of solo ones.
AV: When was it that you first started to think that it might be time to do another piano album?
RS: I wanted to do another solo piano album back in 2010, but the label I had been with in the mid to late 1990's closed down. Before putting all their masters up for public auction I was given the opportunity to purchase my masters back. I thought about this for a little while. I mean, I could have re-recorded my work, but there was ensemble work on "In the Arms of the Wind," featuring the late Johnny Cunnigham, and "In the Heart of Winter" that could not be re-created. I couldn't see someone else owning these masters, so I used the money I had set aside for future projects on buying the masters back. I am glad I did, but that delayed releasing a piano album by a few years.
AV: Tell me about the title of the new album, why you chose it and how it describes the music that listeners will find on this new release.
RS: I have been obsessed with the concept of TIME ever since I learned how to read a clock. Isn't it amazing that seconds tick by at a constant rate and yet time itself never feels constant? There are times in our lives that move painfully slow, and other times that tend to whiz by. Think of all the times you have felt this way. I am fascinated by how we as human beings perceive time. We are on the only beings on the planet that know our time on earth is finite and yet we live as though it is not. I also love films and books about time travel, and so this is the theme of the album: TIME. Time and all its mysteries---how it is perceived, how it moves, bends, and our fantasy that it will go faster, slower or reverse. My husband, who is a professional photographer, joined me in creating a music video for the title track. In it, I am a time traveler of sorts and the short film takes us back in time to another place. It was a load of fun to do. We shot it on an old heritage rail trail near my home where the landscape has been pretty much the same since the time of Abraham Lincoln.
AV: As you composed the music that wound up on Another Time, Another Place was there any conscious effort on your part to create music that would fit within the framework of the theme of the album?
RS: Absolutely.
AV: Do you set aside time in your day when you sequester yourself away to spend time focused on the project at hand?
RS: I am a very disciplined person, so I do well by giving myself "assignments." For example, I might be invited to go out to dinner with friends and if I need the time to prepare for a concert I might say, "I can't I have rehearsal," and my friend might respond, "You do? With who?" and I will say, "With myself. I have rehearsal with myself." That sounds funny, doesn't it? But if I don't do that, there is always something else to do---be it laundry, or a place to go. I need to give myself the time with the piano the respect any other rehearsal will require, even if it is with myself.
AV: I watched your Ted talk about the Healing Power of Music and was wondering if you felt that each album you put out including your latest has that potential to affect changes in people's lives and how that makes you feel about what you do as a composer?
| | |
| --- | --- |
| RS: I think that human beings have known about the transformative power of music for hundreds of years, but what is relatively new is the ability to measure results in a very real and tangible way. The medical community now has the research that proves that music can not only make us FEEL better, but can actually help us BE better. There is a lot on this subject at www.musictherapy.org, the web site for the American Music Therapy Association. I try to incorporate performances in nursing homes and assisted residence facilities while I am on tour and I find that those populations really enjoy the music of "yesteryear." This music helps trigger memory and gives an overall feeling of well being. Like many others in my profession I receive a number of emails/letters from people letting me know that my music has been the soundtrack for their life cycle events such as weddings, funerals, anniversary celebrations. I find it a great compliment that couples have chosen to walk down the aisle to my music, and it is also comforting on some level to know that people listen to it during difficult times as well such as during chemotherapy treatments. So much of what I do is in a vacuum---alone in my music room---so hearing about the positive effects my music has had on others is indeed lovely. | |
AV: Were there any songs on Another Time, Another Place that you are particularly proud of or pleased with how they turned out?
RS: I think the standouts are the title track, which has movement in it that is quite exciting. "First Dance," which opens the album, is a slow waltz that has an intimate sound to it. I have introduced audiences to "After All," which is buried deeper in the album and people have really responded to that. Overall, I am very proud of the entire work and can't wait for people to hear it.
AV: Does music you compose ever surprise you by heading off in a direction than what you thought when you start working on a piece?
RS: No. Maybe because I don't like surprises (ha ha). I sometimes just have segments or "scraps" of pieces written that I return to at a later time to complete when I have a new perspective. I have written many pieces that ended up "in the bench" and left unrecorded because I felt they were derivative of other work or didn't quite make the mark.
AV: Overall how do you feel about the finished album Another Time, Another Place?
RS: Happy. Excited. Proud.
AV: Are you in a different frame of mind or do you use a different approach when you are working on compositions that will be solo piano work as compared to your approach to writing a book or even working on your Americana release? Are the creative energies you draw on essentially the same for all of these efforts?

RS: Good question! The Americana release was a completely different animal. It required a different mindset and then when preparing to tour the album, a million changes were made to make the live performances more dynamic (costumes, historical tales etc).
The solo work is more personal in nature as I feel each album is practically a chapter of my diary. I can go back to any song and know exactly what inspired it and where I was in my own life when I did. Some people keep scrapbooks, photographs albums or a diary. I write compositions and those compositions cement the memory--whether that be a memory of a great love, a great loss, a beautiful day.
AV: Will you be playing music from Another Time, Another Place live after the album comes out on April 28?
RS: I will be featuring the new music on tour all year and will also incorporate audience favorites from previous releases while on tour.
AV:Thanks so much for your time Robin and with your new album coming out in a very few days (4-28-2015) I wish you much success with what should be a great album of new piano music.