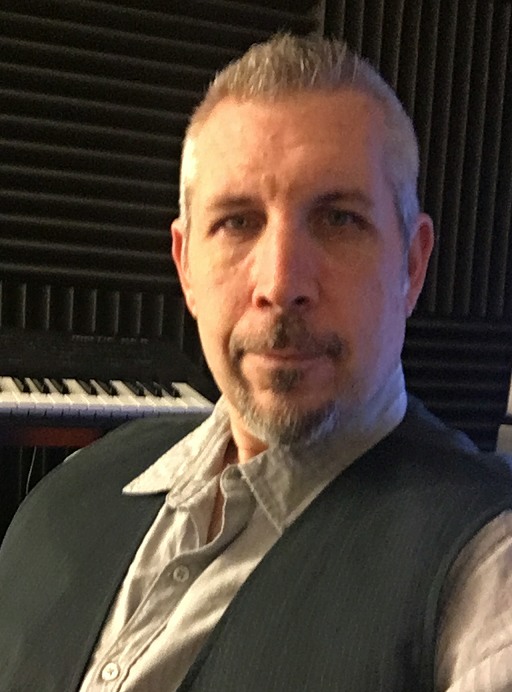 Matthew Stewart
Visit Matthew Stewart's website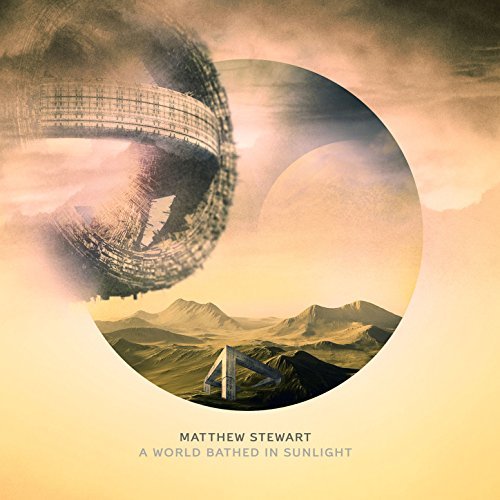 A World Bathed
in Sunlight
For the past 20 years Matthew Stewart has appeared on albums and live performances by David Helpling, Jon Jenkins, Deborah Martin, and many other Spotted Peccary releases. Now Matthew has a brand new album of his own – ten cinematic/ambient/electronic tracks comprising a warm and musical journey that is full of wonder, hope and inspiration. It's always great when musicians that you have heard in the past as part of other artist's work step out from their role as supporting musicians to create their own music for everyone to enjoy. We thought that now would be a good time to introduce you to Matthew Stewart who with the release of A World Bathed in Sunlight has done just that and taken the next step in his musical evolution. Matthew, may I introduce the readers of Ambient Visions. Readers allow me to introduce you to Matthew Stewart a name I'm sure you will become familiar with in the years to come. Let's get to it then.
---
AV: When did you first discover ambient/electronic music in terms of a genre and what artist(s) do you credit as stoking the fires of your interest to learn more about it and to start seriously listening to it?

MS: Thinking back to my childhood, one of the first artists who had a very direct and profound influence on me was Vangelis. I was about ten at the time…I had taken a few years of piano lessons, after my mom noticed my proclivity for picking out melodies on our upright, and when Chariots of Fire came out, I was immediately taken with the soundtrack. I remember bringing the sheet music to my teacher and more-or-less demanding to learn it. I didn't even realize, at the time, that Vangelis had also done the soundtrack to the original Carl Sagan "Cosmos" series the year before, but that series itself played a giant role in shaping my interests (both for science and electronic music). Then Blade Runner came out, and I was blown away yet again. The opening minutes of that movie, with those incredible, mystical textures, stand out as a formative musical moment.

Growing up, my mom played acoustic guitar, and we always had music playing in the house…often folk and acoustic music. Sometime in the mid-80s she discovered some of the Windham Hill artists (Michael Hedges, Will Ackerman, Scott Cossu, George Winston, Liz Story, Shadowfax, Mark Isham) and that became a mainstay of what we listened to. My tastes had veered somewhat, by that time, into more pop and rock music, but I was always intrigued by instrumental music, and the sonic landscape it presented. As soon as I was able to get my hands on a synthesizer I started delving into sound design, trying to emulate sounds and create new ones, very much inspired by some of those artists.

AV: How far back does your interest in performing music go and when was it that you decided that ambient music was going to be a genre that you composed and performed in?

MS: It wasn't too long after I graduated high school, started working and acquiring more gear, that I got the itch to start composing and performing. Once I had a sequencer and a drum machine, I was able to start seriously putting music together. At that time, my predominate influences were probably Peter Gabriel, Sting, Genesis, Yes, Pink Floyd, and Rush, so I was aiming for something in the middle of all of it, musically.

Matthew on an 8-string

I enrolled in community college part-time and decided to take some music courses, and they had a "Computers and Music" class which introduced me not only to some recording gear and techniques, but also to a lot of like-minded musicians. I ended up acquiring my first electric guitar, a drum kit, and a bass, and just spent hours in my garage trying to play and learn as much as I could; occasionally, I would get invited out to perform on keys or guitar with a couple of college friends.

There was a blues band, and another guy who was heavily influenced by David Sylvian…I remember sneaking into a bar to perform with him before I was 21.

I also took a music theory class, in which I met a very cool guy named David Helpling. We ended up becoming fast friends, with our considerable overlap of musical tastes. To make a long story short, we became roommates, played in a rock band together and drew a lot of inspiration from each other.
He had been composing electronic music for a while as well, so we'd constantly play ideas for each other. When the rock band ended up on a permanent hiatus, he focused on his ambient/electronic side; he'd met the Spotted Peccary gang while working at a music retail store and they recognized his awesomeness. I got the chance to record some bass and vocals on his debut "Between Green and Blue" album, and we ended up playing a show at a planetarium here in San Diego; this was a pretty magical event, given the setting and the sound. (Steve Roach also played at that show; I'd heard about him, but hadn't actually heard his music before the show, so it was neat getting my first taste of his music via live performance.)
Some years later I did a self-produced album called "No Stone Unturned", which was a rock/pop project, inspired largely by the layered production work in the music of Peter Gabriel, Seal and other artists. I wanted to perform it live, and I asked David and Jon Jenkins to be a part of my live ensemble. The live group grew to six members, which gave us a lot of musical flexibility and made for dense live arrangements, with a lot of harmony vocals as well. That lasted about a year, and we did a few live shows around San Diego, but ultimately it kind of fell apart due to some family strife on my end.
Fast forward several more years; when David and Jon did their live performances of songs from Treasure and a few of their solo albums, I got to tag along as their live electronic drummer. It's a particular challenge, performing music that has so many layers with just a three-man crew (I got used to playing to a click-track, as our fourth band member was Jon's MacBook), but I feel like we pulled it off pretty convincingly, and it has definitely fired me up to do it again. (If you're reading this, guys…when are we going on tour?)
AV: As an artist what are your thoughts on streaming and how advantageous for you is it that services like Spotify have your music available for streaming?
| | |
| --- | --- |
| MS: I think services like Spotify are great, from an accessibility and exposure standpoint. I've followed the stories about how streaming services pay very little in terms of royalties, so I don't have any expectations of major financial earnings from them, but it is great to think that people on the other side of the planet might hear my songs now. It has been rewarding to hear feedback from fans in other countries already, given that my album has only been out for a short time. I'm excited to see how far it will spread! | David Helpling, Matthew Stewart & Jon Jenkins at ZMR |
AV: What is it about the ambient and associated genres of music that you like as a listener and also as a composer?
MS: This kind of instrumental music has a very visual, cinematic aspect to it; whether you're throwing headphones on and zoning out at the end of a long day, while imagining scenic vistas or galaxies colliding with each other, or taking a long road trip through wild terrain, it's the kind of music that you can attach your own particular meaning to. It can be grand and sweeping, or introspective and intimate; the same song, on a different day, can have a completely different context and meaning, and as a listener you get to decide for yourself.
After working so much on vocal music, where the focal point is the emotion conveyed in the voice, and the particulars of the lyrics, I appreciate the openness of ambient music; the focus can shift, and you are freer from the tropes of traditional songwriting. As a composer, that's the exciting part; finding a voice, when often it's not one particular sound, but an amalgam of chords and rhythm and melody. It becomes like painting with sound; you try to find a palette of sounds that work with each other to create a picture that hopefully draws people in. Also, each song can be its own little journey; not just the finished product, but the process of writing, can take you in a particular direction; it leads you where it wants to go, like it has a mind of its own. I really enjoy that process of discovery.
AV: What kind of relationship do you have with Spotted Peccary and how do you work with the label when you are ready to begin a new album?
MS: I first met the core group (Howard Givens, Deborah Martin-Lemmon, Jon Jenkins) back during production of David's debut album (when they were still based in San Diego), and since that time I've gotten to record on several artists' albums, over a couple decades now, including some of Jon and David's works. One of my earliest contributions was to a track on Deborah's "Deep Roots, Hidden Water" album, called "The Strength of Stones" (which also featured Tony Levin…I only wish I had been there to witness his bass wizardry in the studio!)
A few years ago, Deborah invited me to record on her "Old Habits Are Hard to Break" album, and while working on that I shared with her a number of tracks I'd been working on. She knew I'd been working more on the singer/songwriter front, but didn't realize I'd also been writing instrumental ideas; I think she finally heard enough cohesion between those songs to invite me to be part of the artist roster. While working on her country/folk tracks, we also set several recording dates; those recordings grew into the songs on her recent album "Eye of the Wizard", which we co-produced. Whenever we met, she would motivate me to get my songs polished, and to try to find the common threads between songs that would make them fit together. (In one case – the title track of my album, actually – she suggested a complete change of direction from the original concept, which resulted in a much more introspective, but ultimately stronger and more melodically interesting work.)
I have started working on my second album for the label, and I'm sure I'll be sharing my efforts with Deborah, Howard and others at the label once it has started to take shape, to get their feedback. I'm also trying to make more time to listen to other artists on the label…there are some truly amazing label-mates to study.
AV: You have a new album out called A World Bathed in Sunlight. When did you start working on this album and what were some of your inspirations for the music on it?
MS: This debut album was several years in the making; some of the ideas originally started almost eight years ago. A lot of it happened organically, beginning as musical "experiments" with new software and sounds I had acquired, and – as often happens, I think – as the songs took shape they sort of guided me in different directions. I had amassed probably twenty or more tracks that had some common threads, whether those were particular sounds or melodic directions.

Some tracks were directly inspired by world events ("Falling Stone" was originally titled "Black Ocean", and was actually a reaction to the Deepwater Horizon oil spill, some weeks after it happened


Matthew's Musical Instruments
and it became evident just how horrible and lasting the consequences were), or moods I was in at the time…but much more often, it's hard to put into words exactly where the inspiration comes from.
That is, I guess, part of music's mystique, and why it's so compelling (and often feels therapeutic) to me. Sometimes it is less about willing it to happen, then about letting it happen. Whatever is bouncing around in your subconscious mind has a chance to come out. I don't mean to sound pretentious or mystical, but it does seem like when things are really flowing, and I'm entirely focused on just the music and the moment, it's more like channeling than writing. (That seems to be a common thread through a lot of creative processes, like writing a novel or painting.)
AV: When you are composing new music like A World Bathed in Sunlight do you have a process that you work through for each song?
MS: I don't have any set process for composition, per se. Oftentimes it starts with finding a musical palette…sorting through sounds, tweaking them, and kind of appreciating each sound for its particular musicality, and where it could fit in the sonic landscape. That said, I often return to piano sounds; it could be just a byproduct of that being my first instrument, but piano – generally through a big cave-like reverb – often ends up planting the seed of a new song. The title track, and "Aftermath", are two that I can point to as examples.
As a drummer, I'm also drawn to all kinds of percussion sounds, whether those are little beeping electronic kinds or big, open, booming acoustic kinds. A fair number of songs got their start as drum rhythms; "The Journey Away" and "Cave of Stars" probably fall into that category. Those may be good examples also of how much things change during the writing process; they started as heavily drum-driven, and I ended up moving those rhythms to the back-half of those songs, as I listened to them and thought there needed to be more "story" before those parts came in.
A big part of the composition process is just active listening; there's always a kind of tug-of-war between the artist and the producer role, and once I've got a basic idea recorded, the editing/arranging (and mixing) side comes more into play. I start listening for "dead spots" in the tracks, places where it feels like there needs to be a different texture, or maybe a pause for breath between movements. I also tend to throw a lot of parallel ideas into the same track; I'm still learning the lesson of "less is more", and that sometimes I need to take parts out entirely in order for the central theme to be more evident. And sometimes I just need to take a long break from the music, so that I can re-listen later with fresh ears, and get perspective.
AV: What kind of equipment/software do you work with during composition and the fleshing out process?
| | |
| --- | --- |
| Matthew and his gear | MS: For several years I had used Windows-based tools for sequencing, and had a Roland VS2480 for audio tracking. Then about 10 years ago I switched to an iMac (in part, to be compatible with David Helpling's studio, because he's a Digital Performer guru and that only ran on Mac OS at the time.) Software-wise, Reason became my muse for a little while, and was at the heart of most of the songs on the debut album. I really like the ease of use, the ability to create new sounds quickly and handle audio routing intuitively within it. But Reason is a bit of a self-contained environment; only in the last few years did they add the ability to sequence outboard gear, and I believe it's still closed to VSTs like Omnisphere and Kontakt. So I also ended up using Cubase, exporting audio from Reason and then layering in additional sounds there, from those aforementioned VSTs, and from some outboard gear; some Roland stuff (a Fantom S-88, JD-800 and V-Drums) and a couple of Novation boards (X-Station and Ultranova). |
I typically also tracked guitar and bass parts into Cubase as well. My studio is still pretty light on outboard effects, pre-amps, and rack gear; I have a pair of PreSonus Firestudio interfaces to bring in audio, and a POD HD500 guitar effects pedal which I used for most of the guitar parts on the album. Lately, however, I've been experimenting with a custom pedal board, in part inspired by Helpling's live rig; I've acquired a few Strymon pedals (the Big Sky and Mobius), an Eventide Time Factor and a few other random things. I have been doing a lot more experimentation with ambient guitar loops, and just guitar composition in general; a couple years ago I bought a Carvin 8-string guitar (kind of on a whim, after I realized I didn't have enough money to buy a real acoustic grand piano) and lately it has been my go-to instrument for new ideas. I have a feeling it will be the focus of my next effort for the label...though I am by no means leaving the synth and piano world behind.
AV: For an album like A World Bathed in Sunlight are you aiming for a unifying theme for the entire project or do you simply work on each song as an individual component?
MS: While many of the songs, in their original form, were written before I had an overall story arc in mind, I revisited a lot of them once I had figured out where I wanted to push the narrative. With instrumental music, sometimes just naming a song can be a challenge; you often start out calling it something like "random 6/4 epic drum idea", until it develops a personality, but even then it can still be a challenge to find the right context, where the song really fits the name you give it. I had to really ruminate for a while on that context, and ultimately settled on a story which I felt resonated with me on a lot of levels; then, it became a matter of refining the songs until they expressed that story.
I grew up reading a lot of science fiction, much of it with these kind of grand visions of where humanity might be headed. I've also had a keen interest in science fact, for most of my life. Over the years, I've felt my sense of optimism about humanity waning; it feels, especially lately, that we are dying the death of a thousand cuts, and that we ourselves are the ones wielding the knife. The dystopian side of those sci-fi novels seems to be becoming more and more our reality. I don't know if I have faith, any more, in our ability to overcome our own selfish programming, and figure out how to preserve not only ourselves, but so much of the other life on this planet.
I started to think about the cyclical nature of things, and how it might be possible that the whole human experience, over many thousands of years, might have actually happened before; perhaps here, or perhaps on a different world. Then I started exploring that fantasy; what if this was all known, beforehand, that things would go this direction? What if someone or something – maybe even an earlier iteration of ourselves – gave us a life raft? This idea was like a little spark of hope, in my mind…kind of the ultimate deus ex machina, where we get another chance to start over. That became the guiding idea for how to organize the album, into this little novella about humanity's life, death, and re-birth. I tried to find the pieces that most evoked those ideas; not necessarily in a dark, tragic way, but rather with a kind of mythological sense. (I have to really commend Daniel Pipitone on his art direction for the album; after explaining that the album was about the destruction of the planet – but not in a dark and scary way – not only did his head not explode at this seemingly contradictory idea, but he was able to convey it really beautifully in the artwork, with the "ark-ship" on the cover and other iconic imagery.)
AV: When you finished your latest project what were your feelings about sending it out into the world as an artistic statement? Are you ready to let your music go at this point or are you still thinking about fine tuning even after it's out there?
| | |
| --- | --- |
| MS: I'm not sure that any piece of music is ever "finished", in any artist's mind; I think that is part of why it took me so long to let go enough to just let the pieces be what they are. It seems like the amount of touch-up work could go on infinitely, if I let it; and what strikes my musical tastes one day might be completely different than the next. On balance, I think I'm mostly very happy that it's out there; there are definitely those parts that I wish I'd had just a little more time to refine, but I think I'm okay with the end product. I'm really looking forward to working on the next one (have started already) and seeing where it goes, without necessarily trying to control it too much. I also think it will be fun to see what happens, if people take an interest in the music enough to do animation or video edits; I've seen some really creative pieces that people have done with other artists' music, and it's wonderful to contemplate that perhaps mine might also open up other people's creativity as well. At the end of the day, I hope that's how the music will be received; as an offering, I guess, to the creative collective well. | |
AV: Many thanks for undertaking this interview towards the end of 2016 and working on some of it during the holidays. We all know what the holidays are like for trying to get anything done. That makes you the first new interview on Ambient Visions for 2017 but only the first with many more to come. Happy New Year and may 2017 be a successful time for you personally and for your music.