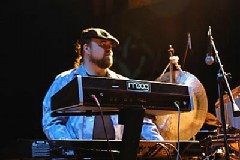 Allen Welty-Green
Atlanta-based composer/multi-media artist Allen Welty-Green was raised in Nashville, TN. He has been playing music, both solo and with various progressive and ambient ensembles since the 70's. Disillusionment with the music industry led him to explore the world of avant-garde dance & performance art in the mid 80s. This led to the formation of the Mind's Eye Performance Group with whom he toured extensively across the Eastern USA, performing his ambient synthesizer scores to surreal dance and movement theater pieces performed by Jason Litchford. Some of Mind's Eye's earliest performances were at the Space For Music events organized by Tony Gerber (of Spacecraft), another Nashville resident.

Mind's Eye went on hiatus in the early 90s and Welty-Green relocated to Atlanta. He then formed Gnosis, an artistic cooperative with choreographer L.E. Udaykee. Gnosis has created a touring multi-media production, Reality Check ( http://www.mindspring.com/~agmedia/reality.html). In order to perform the multi-layered Reality Check music live, he put together the post-progressive, new edge music ensemble Z-Axis
( http://www.mindspring.com/~agmedia/z.html), which has now become a band in it's own right. Their debut CD, "Music From Reality Check" was released last year to uniformly glowing reviews.
In addition to his work with Gnosis and Z-Axis, he has also collaborated extensively with many other dance and theater artists, including Seven Stages, Beacon Dance, Gateway Performance Productions, Cherie Carson, and the Teatr Nowy in Poznan, Poland. Among his musical influences, Welty-Green cites Peter Gabriel (especially his Passion album), Laurie Anderson, King Crimson, Steve Reich, Phillip Glass, Ozric Tentacles... and such progressive rock stalwarts as (old) Genesis and Yes.
Allen used to write music reviews for Option Magazine before their demise. He also covered the Nashville alternative music scene quite extensively in the early 80's for The Nashville Intelligence Report, Grab!, and Trouser Press. His reviews for Ambient Visions mark his return to the world of music journalism.